Images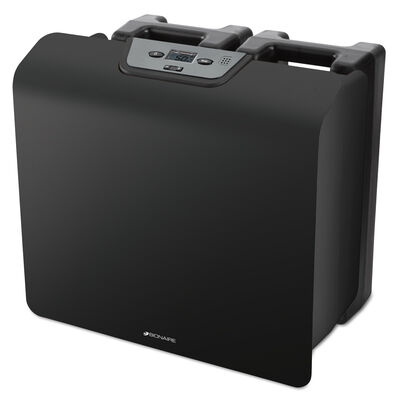 Bionaire® Cool Mist Console Humidifier
Details
http://www.bionairecanada.com/en_CA/humidification-and-dehumidification/humidifiers/bionaire-cool-mist-console-humidifier/BCM3955-CN.html
Availability:
This item is currently not available online.
A pure solution to enhance your home environment, personal comfort and well-being. The Bionaire
®
Cool Mist Console Humidifier transforms dry, damaging air with a balance of cleaner moisture and gentle restoration.
See More...
Additional Information
Proper humidity level during dry winter months keeps indoor air pleasant and comfortable. The Bionaire® Cool Mist Console Humidifier is designed with variable mist control and humidistat to adjust humidity output for maximum comfort level. Triple layer filter enhanced with Arm & Hammer™*1 Baking Soda, antimicrobial treatment*4 and carbon X helps eliminate impurities and reduces odour for fresher air. In addition, the humidifier is treated with antimicrobial properties*4 to help protect against bacterial growth and eliminate odours. Recommended for the entire house or living area up to 2000 square feet.
Easy to fill tanks. Side fill option for easy filling in sinks
Easy to access and change filter
Quiet operation
Slim, space-saving design
Up to 24 hour run time
2.44 gallon tank
Up to 2000 sq. ft. output
2 comfort settings
Digital humidistat
Ergonomic handles
Filter D: BWF75-CN